Problem – PowerPoint: Some of your fonts cannot be saved with the presentation
When trying to save a PowerPoint file you get a message similar to the below;

In my case, I checked the presentation though out and could not find "Courier" in use
Workaround:
Replace the font listed with another font;
In PowerPoint 2003 select Format => Replace Fonts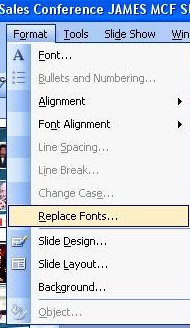 In PowerPoint 2007/2010 on the Home tab select Replace Fonts under the Replace drop-down

Select the affected font in the top dropdown, you may notice it has a question mark icon

And select another font of your choice in the bottom drop-down

Click Replace
You selected a single-byte font to replace a double-byte font. Please select a double-byte font
In my case, I then got this lovely clear message, thanks to Microsoft!

I ended up playing around with the font in the bottom drop-down until I found one that worked, in my case, this was "Vrinda", I am told that "Arial Unicode" should also work if you have that.