The below script is an example of how to create, populate and format an Excel document from a VBS script.
The script is commented, but please feel free to comment if you have any questions.
This code was last tested June 2022 using the latest Office 365 version of Excel
What is covered in this post?
In this example code we will
Creating a new workbook
Select a sheet
Changing the name of the sheet
Adding some data in specific locations and via a loop
Change the font to bold and the font size
Freezing panes
Change the column widths to a specific size and the auto size to fit the contents
Change the text and background colors
Saving the document
The Result
The result of the following example code will generate an example spreadsheet that looks like this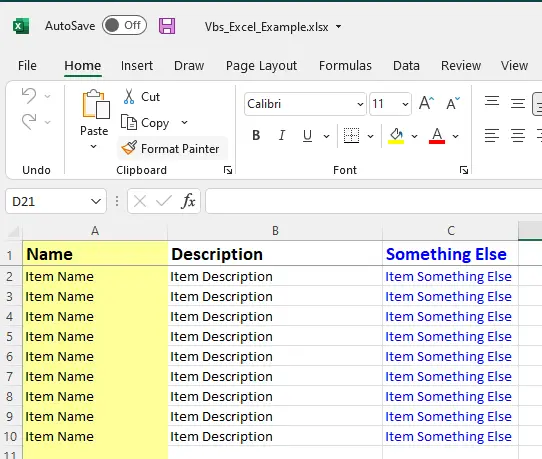 The Code
Change the variable "strExcelPath" as required to a location you have permission to save to.
'Bind to the Excel object
Set objExcel = CreateObject("Excel.Application")
 
'Create a new workbook.
objExcel.Workbooks.Add
 
'Select the first sheet
Sheet = 1
 
'Bind to worksheet.
Set objSheet = objExcel.ActiveWorkbook.Worksheets(Sheet)
 
'Name the worksheet
objSheet.Name = "VBS_Excel_Example"
 
'Set the save location
strExcelPath = "d:\Vbs_Excel_Example.xlsx"
 
'--------------------------------------------------------
'Populate the worksheet with data
'--------------------------------------------------------
'   objSheet.Cells(row, column).Value = "Whatever"
 
'Add some titles to row 1
objSheet.Cells(1, 1).Value = "Name" 'Row 1 Column 1 (A)
objSheet.Cells(1, 2).Value = "Description" 'Row 1 Column 2 (B)
objSheet.Cells(1, 3).Value = "Something Else" 'Row 1 Column 3 (C)
 
'Add some data using a loop
For row = 2 to 10
	objSheet.Cells(row, 1).Value = "Item Name"
	objSheet.Cells(row, 2).Value = "Item Description"
	objSheet.Cells(row, 3).Value = "Item Something Else"
Next
 
'--------------------------------------------------------
' Format the spreadsheet
'--------------------------------------------------------
'Put the first row in bold
objSheet.Range("A1:C1").Font.Bold = True
 
'Change the font size of the first row to 14
objSheet.Range("A1:C1").Font.Size = 14
 
'Freeze the panes
objSheet.Range("A2").Select
objExcel.ActiveWindow.FreezePanes = True
 
'Change column A and B to use a fixed width
objExcel.Columns(1).ColumnWidth = 20
objExcel.Columns(2).ColumnWidth = 30
 
'Change column C to autofit
objExcel.Columns(3).AutoFit()
 
'Change the background colour of column A to a light yellow
objExcel.Columns(1).Interior.ColorIndex = 36
 
'Change the font colour of column C to blue
objExcel.Columns(3).Font.ColorIndex = 5
 
'--------------------------------------------------------
' Save the spreadsheet and close the workbook
'--------------------------------------------------------
objExcel.ActiveWorkbook.SaveAs strExcelPath
objExcel.ActiveWorkbook.Close
 
'Quit Excel
objExcel.Application.Quit
 
'Clean Up
Set objSheet = Nothing
Set objExcel = Nothing