Overview
Microsoft Office defaults to trying to save to OneDrive instead of the local computer or a network share, if you would like to change this behaviour read below.
Manual Method
Open Microsoft Word and go to File => Options
Select the Save tab on the left
Tick "Save to Computer by default"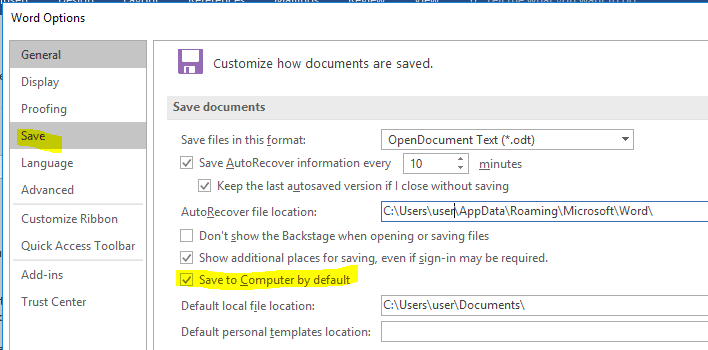 Group Policy Method
For whatever reason Microsoft did not include this setting in the MS Office ADMX templates so instead we have to use a Registry Preference policy.
Open the Group Policy Management tool and either create a new policy or edit and exiting one.
Expand User Configuration => Preferences => Windows Settings => Registry
Right-click in the area on the right and select New => Registry Item
Set the action as Update
Leave the Hive as HKEY_CURRENT_USER
Set to Key Path to Software\Policies\Microsoft\Office\16.0\common\general for Office 2016, or Software\Policies\Microsoft\Office\15.0\common\general for Office 2013
Set the Value name to PreferCloudSaveLocations
Set the Value type t0 REG_DWORD
Set the Base to Hex
Set the Value data to 00000000
Click OK
Run a GPUpdate or wait for the policy to refresh.