In this post, I will cover how I have found my first 10 weeks using Ezoic for my Ad network and how Ezoic has increased this site earning by a massive 280%
Table of Contents
How this site started
I registered this domain way back in 2005. I was learning PHP at the time and for several years I used the domain to host my own bespoke CMS and to play with open source projects such as Drupal and phpBB. This site has lived many lives before it became a blog.
I always used this site as a place to post tips, solutions, and scripts to help others and it has acted as my own personal knowledge base. A few years back I noticed these posts were getting some traffic and I migrated the site WordPress. Traffic continued to grow and with its hosting costs, so I started running's some AdSense Ads to cover the costs.
What prompted me to switch Ezoic
Back at the start of July on a boring evening, I was watching YouTube videos and reading posts on the subjects of how much sites with a certain level of traffic generally earned. Needless to say, this site was not coming anywhere close with AdSense.
Getting rich has never been the intention of this site, but creating and keeping content up to date is a time-consuming task so I thought why not give Ezoic a try, the worst case I can always go back to AdSense.
Increased earnings
I couldn't believe the jump in earnings, it was immediate with hardly any effort. My earnings are up 280% on the previous 10 weeks.
Beyond earnings
From the very start Ezoic feels more like a partner, their ethos is if you do well, they do well. So Ezoic has built a platform around giving you the tools and support to grow your site.
Analytics
You get access to an excellent Analytics suite that I personally find easier to use and superior to Google Analytics. For one it actually shows your earnings and earnings per thousand visits against your pages.
SEO Tools
You can use the inbuilt tools to run tests on the different titles for example to see how little changes can affect a page's traffic.
Here is an example I ran with one of my posts. I found that with just a couple of small changes to the title I could increase my click-through rate by over 17%.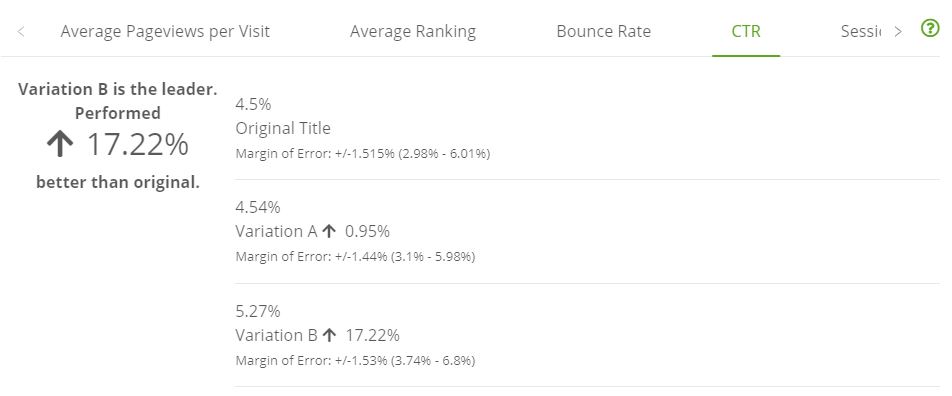 Speed
They have tools to perform caching and increase the speed of your site (LEAP).
Level Up Course
Run once a month by Ezoic and fellow publishers they include educational exercises, coaching, product walk-throughs, and community discussion intended to help you grow your site and earnings.
Find out more
Head over to ezoic.com for a full breakdown of all their great feature. They really are far more than just an Ad network!
Joining Ezoic
Once upon a time, you could only join if you had more than 10,000 monthly pageviews, but that is not the case anymore! If you have less than 10K pageview you can still join, you will start in their Access Now scheme. As your traffic and earnings increase you will unlock more features and support with their Levels model.
Simply click here and press the Get Started button in the top right.
If you have any questions feel free to comment below.