So, I recently became an Apple MacBook user after using Windows and Linux my whole life. One thing that I noticed when attempting to use iMessage and FaceTime on my new MacBook was that my contacts that are on my iPhone were not on my laptop.
It turns out that before I moved to an iPhone years ago I was an Android user. When I moved to the iPhone all of my contacts were in Google and I must have set Google as my default contacts provider under Settings => Contacts as all the new contacts I have added over recent years have been unknowingly saved in Google rather than iCloud.
I still have a Google account but no longer use it, so this was the perfect time to do a bit of a cleanup and migrate my contacts into my Apple iCloud account.
Luckily Google and Apple make the process pretty simple.
The Steps
Exporting Your Google Contacts
Visit and sign into your Gmail account at https://mail.google.com/
Click the "Google Apps" icon in the top-right
Click the "Contacts" app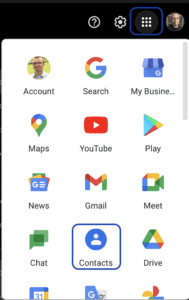 On the bottom left click "Export"
Select "vCard" and press "Export"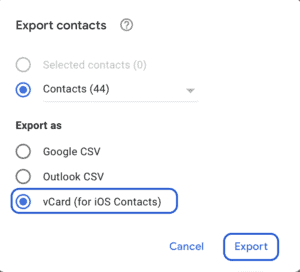 A single "contacts.vcf" file will be downloaded holding all your contacts (they will still exist in Google). Next, we will import this VCF into iCloud you could also import it into Outlook or another provider that supports the vCard format
Option 1: Importing vCard Contacts into iCloud.com
Note: If you have access to a Mac and have a lot of contacts to import you may have move success with Option 2 detailed below.

In the bottom-left click the Cog icon and select "Import vCard"
Browse and select your previously exported "contacts.vcf" file
If you are importing lots of contacts, it may take a a few seconds, iCloud may appear it is doing nothing but give it a few seconds!
Option 2: Importing vCard Contacts into MacOS Contacts App
Using the iCloud.com method above generally works great, but if you have a large number of contacts the web may not be the best option. You could re-export your contacts in smaller groups and try again. Or if you have a Mac you can import directly into the built-in Contacts App
Open "Contacts" from the Launchpad or your dock
From the File menu select Import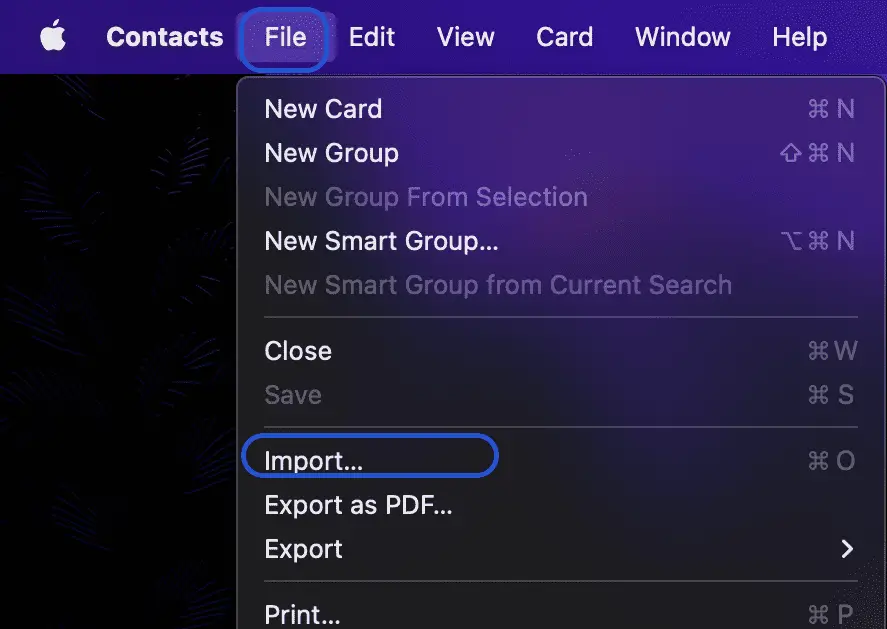 Browse and select your previously exported "contacts.vcf" file