Released way back on September 15 2000 (I feel old), by Raven Software, Elite Force is a first-person shooter set in the Star Trek universe. You play as the character Ensign Alex Munro, who depending on your selection at the start of the game is either a male or female character. Ensign Alex Munro is a member of the elite security force the "Hazard Team" aboard the starship Voyager stuck in the Delta Quadrant.
The Hazard Team is responsible for protecting Voyager on its journey home. In the story, Voyager is trapped in a graveyard of alien vessels, and it's up to you as a member of the Hazard Team to defend the ship and your crew.
If you are a Star Trek fan, want to play a great person shooting, or just want to have a laugh at some year 2000 graphics. Check it out!
Why now?
You may be asking why I am writing about a game that is over 20 years old now. Well first of all the game is awesome, it holds an 86% rating on Metacritic which is the highest of any Star Trek game. I remember buying it when it first came out and being completely hooked.
Secondarily, for the 55-anniversary of Star Trek, the game along with the lots of your great start Games has been released on GOG. The GOG version also includes the Virtual Voyager expansion pack with Jeri Ryan's voice, the ability to walk around the ship freely, which I never had.
Soooooo, I had to give it another play!
https://www.gog.com/partner/startrek
Much loved game
While the Playstation2 version released a little later in 2003 was not a great port and largely received pretty negative reviews. The PC version which is what we are talking about here is widely likely and enjoyed by many. As mentioned above it holds the highest rating score for a Star Trek game on Metacriticis.
One of the original development teams has even taken the time to comment in a review of GOG. It sounds like the game was a labour of love created by Star Trek fans for the fans.
Does it work on Windows 10 and Widnows 11?
Oh yes! You can play the game on Windows (7, 8, 10, 11).
As long as your computer meets the minimum requirements, which let's face it given this game is over 20 years old, pretty much any computer manufactured in the last two decades will be fine with.
Processor:
Memory:
Graphics:
Storage:
1.8 GHz
512MB RAM
3D graphics card compatible with DirectX 9
750 MB of available space
Unfortunately, the game is not supported on macOS
Installing
First, you will need to buy a copy over at GOG ($11 / £8 something at the time of writing). If you don't already have a GOG account you will need to register for one.
https://www.gog.com/game/star_trek_voyager_elite_force
If you don't already have the "GOG Galaxy" application installed head to your game library, select your purchase and click "Download and Install now". GOG Galaxy allows cloud saves and auto-updating of your games, but there is also an "Office backup game installer" if you really don't want to use GOG Galaxy.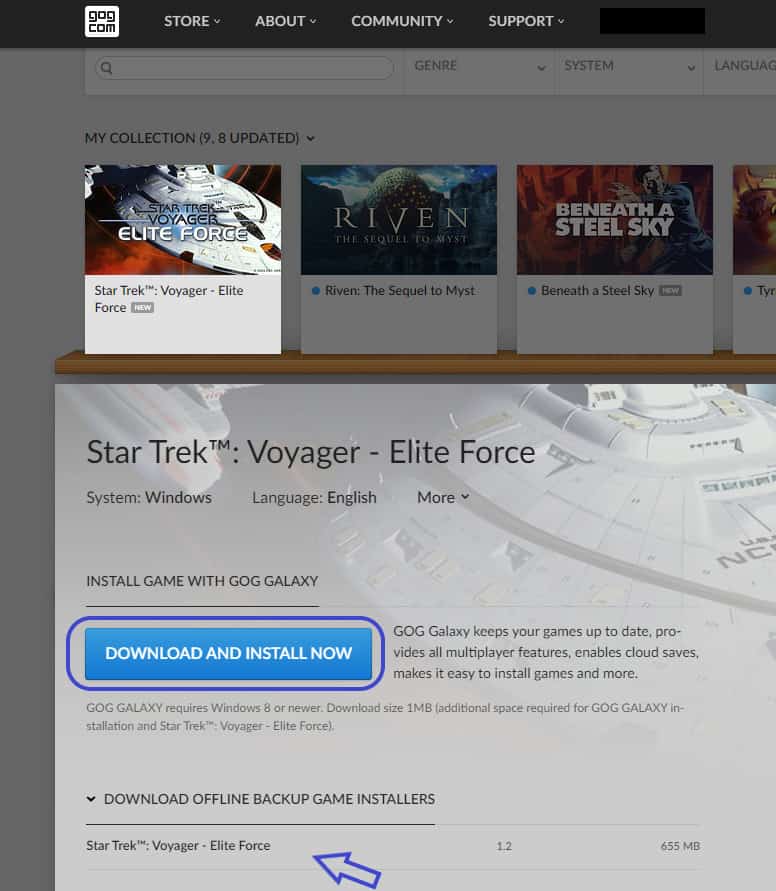 Open GOG Galaxy (sign in if required) and let it do the installing thing. You should then have a play button in the top-right.
Graphics
The game was made before resolutions such as 1080p were a thing. However with a minor tweak to one of the config files you can set a resolution on 1920×1080 or whatever custom resolution you would like to use.
First of all, let's set the graphics settings to the max.
Launch the game
From the main menu select Configure => Video
Set the Video Options to High Qaulity
Apple the changes
Exit the game
To set a custom resolution such as 1920×1080
Open the config file efconfig.cfg. If you are using GOG Galaxy this will by default be located under C:\Program Files (x86)\GOG Galaxy\Games\Star Trek Elite Force\BaseEF
Find and change the value of seta r_mode to be -1
Find and change the values for the lines seta r_customwidth and seta r_customheight. For example,
seta r_mode "-1"
seta r_customwidth "1920"
seta r_customheight "1080"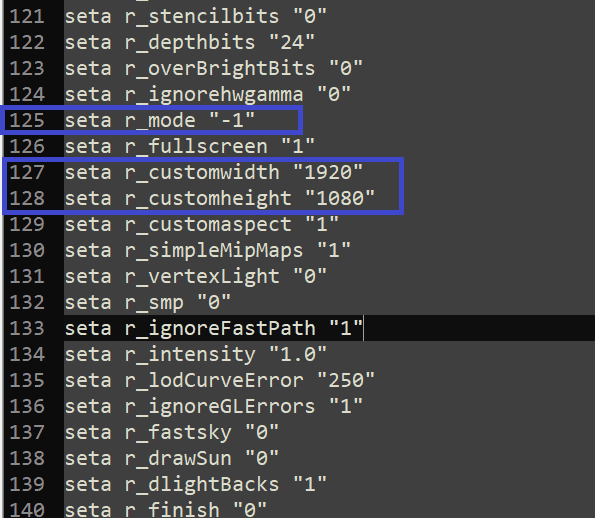 Save your changes to the config and launcht he game to see how it looks.
Don't apply any other video setting changes in the game else you changes to the config file will be lost.